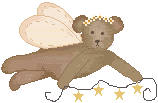 'Our Introduction'
(Written September 12th 2002)
Welcome! Here is just a brief introduction of ourselves so you can maybe get to 'know' us just a little before you embark on our most tragic and heartbreaking journey that we have been traveling through since the summer of 2000.
Our names are Justine & Andrew, we live in the UK and we have the four most beautiful children we could have only ever dreamed about!
We have our ~ Earth Angels ~ Sophie and Ben, and our two Precious Little Heavenly Angels, 'Jack & Samuel'..
Sophie is now approaching 12 years old, our Ben, just 4... Our Angel Jack would have been celebrating his 2nd Birthday this November 27th 2002, and our newest Angel Samuel, he would have now been just over 6 months old...

We sincerely hope that through our babies website, for anyone having or has gone through the heartbreaking 'loss' of a baby/child, that some comfort may be found...
Jack and Samuels website has bought our family to a new stage in our lives... This new stage is a step forward in the healing process for us, it has given us the strength in being able to actually be of 'help & support' to many others now, throughout the world, who have devastatingly, experienced/are going through the heartbreaking 'loss' of a baby, especially in the case of 'Potters Syndrome'.

The online Potters Forum Support Group has been an immense part of my own healing process these past 2 years... Being part of an online support group, with members who actually 'know' what you are going through, is an immediate comfort in itself, although sadly, since I have been a member of this group, it has slowly grown larger and larger, which is the most saddest part...
For every new member that we welcome on the Forum, it means another precious unborn child has been either diagnosed with/possibility of, or that their baby has actually been born and 'lost' to Potters Syndrome'!
HOW I WISH THIS FORUM WOULD STOP GROWING AND AN END COME TO POTTERS SYNDROME!
For every new member I meet and for every new email that I receive, my heart breaks a little more each time... This is NOT the way it should be in pregnancy and birth with our babies. Our children should be with us, and we should be taking care of them, not living with just their 'memories'...

So, it is now nearly 2 years that we gave birth to and 'lost' our angel Jack, and 6 months since the birth and 'loss' of our angel Samuel... Our lives are completely shattered and will never be able to be pieced back together, ever...
So many wonderful people out there in the www. world email us, write to us and call us, and always ask how we are doing right now! So the update is, that we are struggling this uphill road, although we know it is a road that we will never be able to reach the top of, but we take a few small steps, on each day...

Sophie & Ben
Sophie & Ben are just the 2 most strongest and bravest little children... Not one day goes by when they do not talk of and remember their precious little angel brothers... Jack & Samuels memories are kept so very alive in our home, in our hearts and in our everyday lives... Although they cannot be with us here on earth, they are forever in our hearts and constantly on our minds...
Sophie has just started at 'Secondary school' and Ben at Pre~School this term... I know that Sophie has spent much of her first 'new week' introducing herself to her new tutors and school~friends and telling them all about her 3 very special brothers...
Sophie has already completed 2 pieces of 'introductory school work' which she dedicated to her brothers and on Ben's 1st day back at Pre~School last week, he came home with a gift that he had made in school and told me that he made it for Jack & Samuel!
He walked indoors and so proudly went to 'Jack & Samuels' Special Place in our lounge, placed it down and told them he made it especially for them both! (It was beautiful, it was a little box with lots of 'straws' glued on top)! Bless!!!!
Sophie & Ben are the most special big brother & sister to their baby angel brothers in heaven... They love and miss them so very, very much...

...and to end on! Andrew and I have discussed about trying just 'once more' for another little baby, although the odds for us are frightening. We have only a 1 in 4 chance of carrying a healthy baby, and I think we know in the back of our minds that those odds are just too scary to take!
We did take the step to ask for a referral to a Genetic Counsellor, although I guess Andrew & I know exactly what the answers to our questions would be already! The odds don't change, as much as you hope and pray they will. If you are carriers of a Genetic Disease, (and in the most extreme case, BOTH of you are carriers of the SAME Genetic Disease), the odds are always going to be against you, and I feel that with odds like these, the chances of us being able to carry a healthy baby again, is near on impossible!
The only one who knows if we can ever be able to be Earth Parents again, will just have to hear our Prayers!!!!

So, please go ahead on your journey through our 'Treasury Full Of Memories' and I hope that you will find some comfort along the way...
With love and hugs...
Justine
xxxx

Please click on the link below to take you back to Jack & Samuels Treasury of Memories Start Page!